Incident
Spill Response Wales were requested to attend a manufacturing facility following an overnight fire at the site. Fire-fighting operations and the site sprinkler system had created a large volume of contaminated run-off together with widespread flooding across the shop floor area of the manufacturing facility.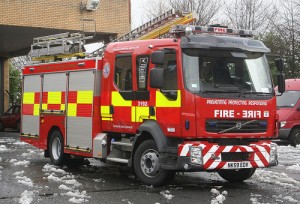 Productivity was stopped across the entire site and Spill Response Wales were requested to provide assistance with pumping out of firewater, ensuring no surface water impact occurred, correctly stockpiling waste water for disposal and co-ordinating sub-contractors on site.
Work Scope
Spill Response Wales were able to provide a full incident response as a UK Spill Accredited Contractor. The following specific response actions were completed:
A response team and equipment were mobilised to site within 2 hours of call-out;
Containment measures were implemented to prevent any impact of the site surface water drainage system;
Portable pumps were set up within the shop floor area to remove contaminated firewater run-off for disposal;
Assistance was provided to other sub-contractors conducting deep cleaning and plant decontamination works;
Response team remained on-site for 13 hours until all firewater and wash-water was effectively removed and stockpiled for disposal;
Spill Response Wales returned to site to ensure all ducts and underground chambers were confirmed to be free from firewater; and
Appropriately licensed sub-contractors were selected and the waste disposal operations managed by Spill Response Wales.
Summary
Spill Response Wales attended a  manufacturing facility following an overnight fire. The Response Team were able to pump out and stockpile contaminated firewater from the shop floor prior to disposal off-site. Containment measures to protect controlled waters were also installed at the site. Spill Response Wales maintained a continuous presence on site until all contaminated firewater was removed and assisted the facility in returning to production at the earliest opportunity.
Testimonial
The Site Health, Safety and Environmental Manager provided the following comments on the services provided by Spill Response Wales:
'Thanks once again for the efforts made & results achieved – it has enabled us to recommence production much earlier than we thought possible.'